Earth Net Foundation hosts the Allah Valley Landscape Development Alliance for a Learning Visit on Eco-Cultural Tourism Development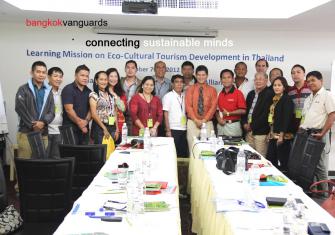 ENF together with the Bangkok Vanguards Team prepared this learning mission for AVLDA which included a first day of meetings with representatives from TAT, TEATA, CBTI, to hear about how Thailand is promoting and working on sustainable ecological tourism in different forms.   It was a chance to hear of the challenges and successes of Thailand and learn of how such concepts as Community Based Tourism are put into practices.
The second day was full of field visits to Samut Songkram, a province recognized for its rich culture, beautiful environment, and agriculture wealth.  Starting with a meeting hosted by the governor of the province joined by many provincial officials, the AVLDA team which included three mayors and many officials from the provinces of South Cotabato and Sultan Kudarat had a chance to dialogue about the challenges those in charge have to both protect their environment yet allow for development and growth.   Seeing that even a province recognized for success in this area, still has its challenges.  The day continued with visits the Chai Pattana Foundation's project in Amphawa and a look at the Bang Phlab community that successful mixes sustainable farming with tourism.  The day ended with a traditional meal at a homestay in the Tha Kha community and a boat-ride (paddled not motor) to see fireflies along the canals.  These places all show how culture, environment and community can not only attract visitors, but done in the right way, visitors and tourism can support environmental and cultural preservation.
The third day, the team was taken to the beachside district of Ban Krut, in Prachuab Khirikan province.  Here they saw a community that has successful fought development of an coal-fired powerplant in their midst and taken steps to keep conserve their rich environment, promoting organic farming, artisanal fisheries, and sustainable tourism.
The last day was a return to Bangkok, however with one more learning stop being a village in Ratchaburi province where the local Thai Song Dam community has maintained their strong cultural traditions including spinning, dyeing, and weaving silk and cotton to become a recognized OTOP community attracting visitors and finding a good market for their products.  This case clearly showed how the government can play a positive supporting role in such developments.
The end of the tour felt like we met or exceeded the expectations of all.   AVLDA being an alliance of many different stakeholders from the government, private sector, and community is to be commended.  This was one of the key issues raised in the visit and success factors, being when different stakeholders from different sides work together with a common goal of sustainable development, success is not far away.  However we know far too often different interests are pitted against each other.  We will the provinces of South Cotabato and Sultan Kudarat much success in finding the path forward with economic development that sustains and preserves their rich cultures and healthy environments.