The diversity of Knowledge: Reflections on the Agrobiodiversity@Knowledged Programme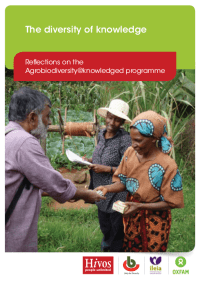 Publishing:
Hivos, Oxfam Novib, Agricultural Biodiversity Community, and ILEIA – Centre for learning on sustainable agriculture
Published Date:
December 2015
Summary:
The main content of book is the 12 interviews of people involved in the programme. One of the interviewee is Michael Commons, Earth Net Foundation – Green Net, Thailand.
The Agrobiodiversity@Knowledged Programme was initiated after over 10 years of supporting agrobiodiversity around the world in which lots of knowledge has been revealed and documented but yet the scaling-up of these knowledge is lacking. Started in 2012, the Programme facilitated the brainstorm and sharing of how to "break the glasshouse", resulting in the transformational process where partners' insight of experiences are made available to others with an an interest in both knowledge for social change and knowledge development around agrobiodiversity.
The publication can be download from website: agriculturesnetwork.org [link]
Categories:
ความหลากหลายทางชีวภาพ