The Fair Trade Organic Journey: Green Net's Farmer Members after more than 20 years linked with Claro and EFTA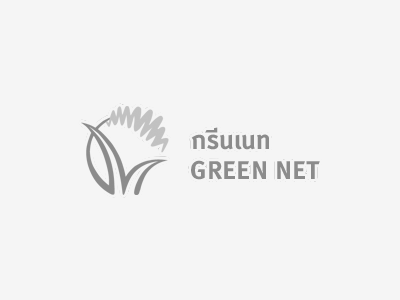 The Sanam Chaikhet Organic Farmers' Group does excellent work selecting and saving their own organic vegetable seed.  Here at a green market at the Sanam Chaikhet Hospital organized by the group
In celebration of 40 years of the organization now named Claro, one of the initiators of the fair trade movement, we thought it interesting and appropriate to connect again with some of the Green Net farmer members, to look more deeply at where they are and perhaps help answer the question, "Has Fair Trade helped our world to be a better place?"     As the movement started primarily to help improve the situation of the producers from the South, such as the small-scale farmer members of Green Net, if we find this to be the case and that the fair trade relationship has played a key role, then it can be found as evidence that fair trade has helped do what it has set out to do.
In this case, I have interviewed 4 farmers from the Sanam Chaikhet Organic Farming group near my home.  While ideally, we might have interviewed more farmers from different groups linked with Green Net and Claro, to have a more wide and representative example, this group has a long relationship with Green Net and from my more casual recent visits and discussion with farmers in other groups recently,  I feel that what we can see and learn here is reflective of the transformation with many farmer members who have for a number of years been practicing organic farming and linked in these fair trade relationships.
What I wish to share with you, and you can see from the answers and observations that I was able to make in the visits I made, is from the basis of a solid and fair trading relationship in combination with other activities to build the capacity and knowledge of the farmers and farmers groups,  a transformative process emerges that empowers farmers, who often enough gain the courage and practice to try, experiment and continuously learn, and thus become leaders of new ideas, techniques, and pathways.
In the context of the Sanam Chaikhet Farmers' Group, it is quite interesting to share that this group which started only producing organic rice as part of Green Net, since has on its own developed its capacity to produce organic vegetables and market these both in the local province of Chachoengsao and to markets in Bangkok.  This allows it to significantly expand the group and the income of it members.  Farmers with quite a small piece of land can earn a good income with organic vegetables, whereas for rice more land is needed.   The group credits their development in organic farming and certification first supported by Green Net and the fair trading relationship, as being a basis that allowed the group to take on these new areas.  As is the case with other groups associated with Green Net, farmer members are members both of a local group and members of Green Net Cooperative.  In this case a local NGO also plays a very key supporting role with the farmers.   More details about the group are in an appendix at the end.
Download and read the full tex [874 KB]